The Bamboo Tee
Our bamboo tee takes the research out of finding your favorite t-shirt.
A blend of bamboo and spandex results in a dense, lightweight t-shirt that is perfect for everyday wear. The tee provides a cashmere like softness while being cool to the touch.
The softness and stretchiness of this t-shirt is something we have never experienced before. Your first reaction out of the box will be how bouncy this fabric really is.
Bamboo, renowned for being one of the most eco-friendly fabrics, provides antibacterial benefits to limit odors after a long day or tough gym session. The final product gives you the softest tee you've ever felt that doesn't shrink, doesn't smell, and is environmentally friendly.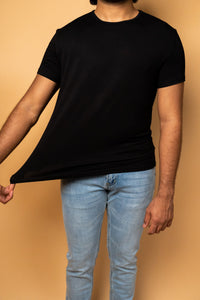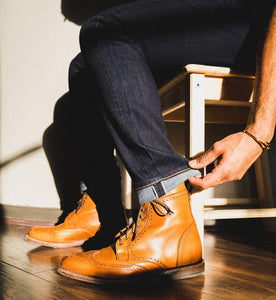 What is selvedge denim?
Selvedge denim refers to the jeans with a 'self-edge' typically on the outside seam. This type of denim is woven with shuttle looms which is a slower, more deliberate way of weaving denim compared to modern fast-fashion alternatives. It's more durable and typically of a greater quality than regular denim.
We use this fabric exclusively in our jeans but also add stretch to the material to make them comfortable for all day wear. We strive for the best quality and we believe small things like this set us apart. It's part of the reason these jeans took 2 years of development to perfect.